Tooth Whitening-Professionally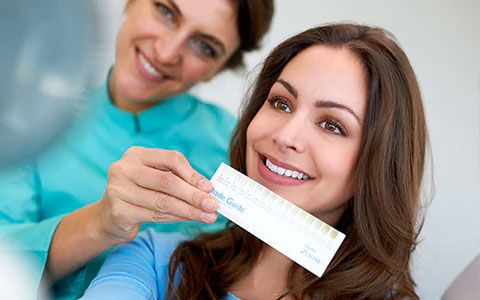 Stunning white teeth that makes you smile even more
A beautiful smile is often the first thing you notice on someone. If you like your smile you will be more self confidednt, and your surroundings will notice that.
Today, it is very easy to whiten your teeth quickly and permanently, safely. The ZOOM! is designed for dentists, and is a delicate process of professional teeth whitening that delivers spectacular results in a very short time, while protecting the teeth.
Whitening showcase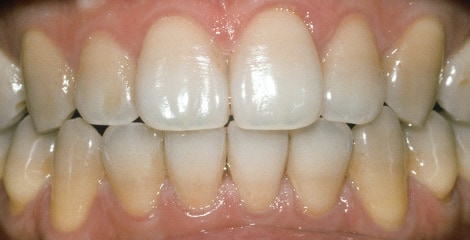 * The clinical results depend on the concentration of active ingredient and the individual predispositions of the patient.
Proffesional teeth whitening benefits
A safe process
Reliable whitening up to 8 lighter shades
A session of approx. 60 minutes
Application controlled and performed by a dental professional
Questions and answers about teeth whitening
Is teeth whitening good for me?
In principle, anyone who wants to get whiter teeth can resort to dental lightening. As part of a thorough screening, your dentist will be able to determine the color of your teeth and analyze the causes of their color. He can tell you the degree of whiteness you can count on within a certain time.
If your dentist detects a problem with your teeth or gums, he will generally treat the affected areas first before bleaching.
How does professional teeth whitening work?
Bleaching refers to all the measures used to make the teeth visually whiter. Generally of a purely aesthetic nature, dental lightening may be recommended for medical reasons. Tooth whitening essentially consists in eliminating their different stains and stains.
The standard bleaching procedure in the dental office is based on products composed of special active lightening ingredients (such as hydrogen peroxide and carbamide peroxide). A gel is applied to the teeth: its active ingredient enters the tooth and "discolors" the dark colored molecules. The targeted use of light can further enhance this reaction.
Many dentists trust professional products such as ZOOM !. They have been designed to offer spectacular results without aggression, so as not to damage your teeth or your gums. Many clinical studies have confirmed the efficacy and safety of these products.
ZOOM! - the intelligent active ingredient reinforced by the blue LED light.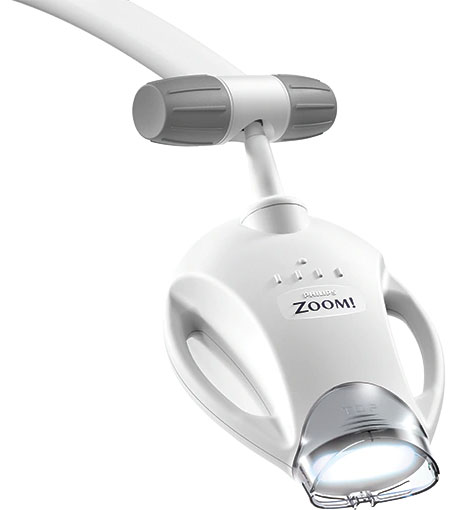 The effectiveness of the lightening gel is intensified by a special lamp diffusing a blue LED light.
Compared to a treatment without light, this machine significantly eliminates tooth discolouration, despite shorter use.
What is the effect of blue LED light?
The blue LED light ideally strengthens the lightening active ingredient during the "fading" of the colored molecules, to make your smile radiant with whiteness.
The specific wavelength of LED light ZOOM! activates the color molecules, which react more quickly with the ZOOM! gel.
Clinical studies prove the effectiveness of ZOOM! and the longevity of this method. Even after 30 days, teeth are 42% whiter than after teeth whitening without a lamp.
If the teeth are well maintained, this result persists for 1 to 3 years.
What is the cost?
The Zoom Professional In Office bleaching is only 339.- CHF
The Zoom Professional At Home bleacingh kit with custom bleaching trays is 295.- (if you are wearing aligners, the kit is only 125.- that work with your aligners).